Tips
We at DolceVita are frequent travelers and as a result get to be tourists ourselves. I wish sometimes, someone had forewarned me before I set of to a few places, so here are just some small hints to help you on your way.
General tips
WATCH YOUR BAG!
Rome is a safe city, no doubt though you have heard about the Gypsies, who sadly are always eager to steal from everyone (including the locals, trust me I have been struck 3 times myself) They usually are easy to spot (generally small children or women, because the police cannot charge them), but always keep your bags zipped and close especially on the subway or in large groups of people (like the Trevi Fountain). Guys keep your money in your front pocket if you must ( fanny pack is ideal) and make sure your hand is always on it. If you are with one of us we are always vigilant, but when taken by the lovely sites to see, just keep an eye open every so often.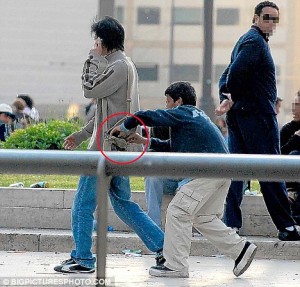 TAXI, WATCH THAT METER!
Taxi drivers are the same the world over, a frequent mix of either great ones or awful ones. I have travelled the world and have often been stung myself in almost every city, by a cabbie who couldn't resist earning a few more coins off an unsuspecting tourist. Generally there are a few rules, here they go
1)If a cab driver asks where your going and tries to give you a price before getting in…..tell him where to go politely and leave.
2) Avoid cabs at the Colosseum metro and exit of the Vatican museums, they are a fine collection of crooks, ask your guide.
3) The infamous meter, always and I say always (unless you leave the confines of the city) the rate must be on a 1 and never a 2!!! It is the small number in the corner of the meter. SEE IT?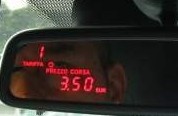 If it is on a 2 he is charging you double, politely ask him to switch it to one ( try say SCUSA CAMBIARE IL DUE A UNO, GRAZIE) just point and say "UNO" he will know.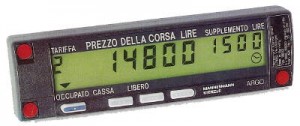 If he does not tell him you have no problems calling la FINANZA (IRS equivalent, tax police) or POLIZIA (city police). Failing that call me, I will have some choice words for him.
GLADIATORS AT THE COLOSSEUM, WATCH THOSE PHOTOS!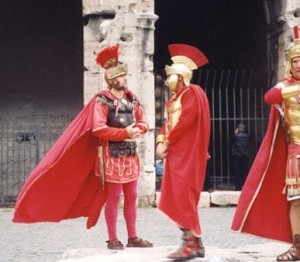 Guys i know it is exciting to see the Colosseum, but sadly there are no Rus Crowe's hanging around the place, so when you see the guys in really bad costumes, hanging around and eager to take a picture with you, just walk on by. In honesty there are 3 decent and honest ones down there and I will take you to meet them and take some photos. The rest have no problems in taking a few snaps then demanding anything from 5 to 50 euros, followed by some threats and choice Italian words if you refuse.
How to get around
General tips to help you around the city.
The Metro and urban trains
If you are not staying centrally the metro is a great way for getting into town, else there is no reason to use it as Rome is a city best crossed on foot. Under all circumstances avoid the morning and evening rush hours (7:30-10:00 and 4:30-7:00). The metro is safe and many of the trains are air conditioned. The trains run between 5:30 am and 11:30 pm (09:00 pm on the A line in 2011 for works reasons). The A line, which is red on the maps, passes through Pz. del Popolo, Pz. di Spagna and Pz. Barberini. The B line, which is blue, passes through the Via Cavor (Monti district) and the Colosseum. They intersect at Termini train station.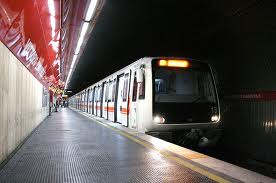 As a tourist the only reason to catch an urban train is either to transfer in from the Fumicino airport or go to Ostia. Ostia Antica and the sea at Ostia are both worth a trip out of town. For the later go to the end of the line, Christopher Colombo Station, and then catch the bus with "mare" (sea) on it. It stops at the "Cancelli" (the gates), all of which are interconnected on the same stretch of clean beach. The cost for each ride is only a euro so good value if your on a budget.
Where to Stay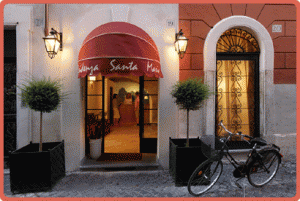 FInd the perfect place to make your stay so good, you won't want to leave. Here is where my friends and family always stay whenever they visit, I am confident you will love them just as much as we do.
RESIDENZA SANTA MARIA.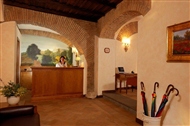 Located in Rome's Trastevere quarter, it is the ideal part of town to stay, very local, few tourists and everything you would expect from Rome from great restaurants to winding sidestreets, covered in Ivy. The Residenza is a six room, mini hotel, wonderfully decorated in warm colours, it boasts some original Roman artefacts, discovered by the owner of the hotel Stefano. Stefano is what makes the hotel all the extra special, a mixture of that Italian charm and warm roman hospitality, he is always willing to bend over backwards to ensure your stay is as perfect as you dreamed.
http://www.residenzasantamaria.com/
Where to Eat
As you would imagine, Roma has some of the most wonderful restaurants, sadly it also has some of the worst! Here are a few of my favourites to steer you on the good path.
LUNCH.
Keep it easy and simple, save yourself for a good dinner. However if you feel like something good, homemade and not a rip off here are two sure fire places to satisfy your hunger and keep you going through the long walks.
COLOSSEUM AREA:
CAFE CAFE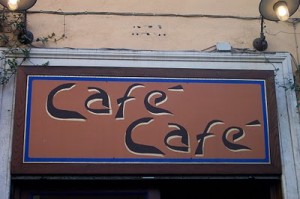 A great hole in the wall with a fantastic view of the Colosseum, a wide selection of fresh, homemade dishes, from delicious keish, to a fresh lasagne and Mediterranean salads. Their sunday brunch is a fantastic all you can eat buffet with a great spread of fresh bread, cous cous and other delicious dishes, all for the price of 15euros, which includes water and a dessert. Escape the crazy Colosseum crowd and enjoy the view.
Cafe' Cafe'
Via Dè SS. Quattro 44,
TEL: 06 700 8743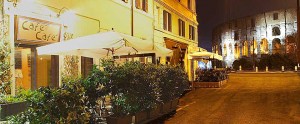 VATICAN AREA:
FA-BIO

Two minutes away from the Vatican Museums, awaits a complete organic menu, offering fantastic paninis, salads a wide range of fresh smoothies, just the perfect place for a good stop after the Sistine chapel. Claudio and Fabio are always on hand to mix you up some great concotions of various exotic fruit juices.
Fa-Bio
Via Germanico 43
Tel: 0664525810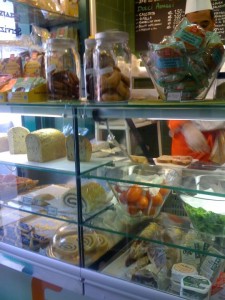 DINNER.
FEELING LIKE SOMETHING RELAXED AND EASY?
MAGNOLIA.
Piazza Campo de' Fiori, 4,  Tel +39 06 6830 9367 .
Magnolia has been open for over 6 years and is one of the local's favourite eating spots, located in the wonderful Campo di fiori. It is a fantastic place for some delicious pasta (a real bowl I mean, not a contemporary piece of art portion), great cocktails, mixed with good service (a rarity in Rome unfortunately) and Italy's favourite sport…people watching. Try the Carbonara or Mediterranean salad with grilled chicken and avocado.
MARANEGA.
Piazza Campo di Fiori 47. Tel: 066 8300331

Located in Campo di Fiori aswell and directly opposite the Square from Magnolia, Maranega is touch more upmarket. Only recently opened, it is already gained a reputation for being one of Rome's "must eat" places. Duely because of its stylish decor, great service and new take on the classic Roman dish Amatricana (Rigatoni or Bucatini pasta with a tomatoe sauce, onions, spicy pepper and bacon) serving it with fresh chunks of Fillet beef. Very reasonable in the price range, be sure to order their Pollo Agrumi (tender chicken with a Capri lemon sauce) , Amatricana alex or Pepper fillet, served with a glass of deep red wine.
GELATO.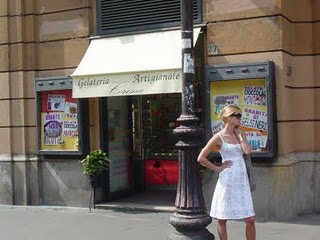 Don't believe the hype, Rome's favourite sweet is best served at only one place. A family owned little shop, made by the owner and his son daily. Creamy, fresh and often surprising flavours. The stracciatella (chocolate chip) is a must!
Corona
Largo Arenula 27 (next to the tram stop at Largo Argentina)
Tel: 06 6880 8054
Where to Shop
Tired of the same, cheap, awful, tacky made in China nonsense you can get anywhere?
Visit this shop and you will be certain to find something unique, thoughtful and special to Rome.
Archeoart is a stones throw away from the 13bc, Theatre of Marcellus (it looks like a mini Colosseum), from the moment you walk through the door, you feel like your in an ancient Roman Taberna (Shop in Latin). Wall to wall there is everything from Gladiator Helmets, Roman Armour, ancient Bronze gods, Afrescos, pottery, Roman combs and everyday objects. You are spoilt for choice and best of all, everything is made by hand in Italy from real Archeaological finds found in our museums. Many of the pots are painted by Marco (the owner) who is always happy to give my friends a small discount. Even if you go just for a few pictures, a chance to hold an actual Gladius, it is worth a stop. Here is their website with a map and some of their stuff.
http://www.marcobocchio.it/
Where to go party
HITTING THE SCENE AND LIVING LA DOLCE VITA.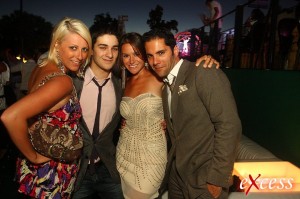 Rome is not the party capital you would expect of a european city. Italians are more about eating, drinking and people watching, not exactly a bad series of hobbies, but some of you might want more. If you are looking for a good night out, friday and saturday nights do have three great clubs to break loose in. In the summer there are some great outdoor clubs and the river bank (lungotevere) is filled with some great bars to pre game. One of Rome's hottest clubs in the summer is Art Cafe's Green Polo Club, located in the lush Villa Borghese (an ex-noble garden once belonging to the powerful Borghese family), near Via Veneto, which was once the hot spot for famous actors in the 50's and sight of our famous/infamous DOLCE VITA. Entry can be hard, be warned, dress code is important, so make sure you have your finest on. Fortunately Rome's top PR is a good friend and willing to help all dolcevita.com friends and customers. Friend to the stars, Kikko Lombardo, has been one of Rome's top organisers on the club scene for years. A friendly, charming and well spoken Italian who will be on call to get you a table or make sure you tread the boards of Rome's vip scene.
KIKKO LOMBARDO
PR of Rome
(+39) 3291771105