Orvieto

A perfectly preserved medieval town located on the top of a massive volcanic ash, cliff. Delicious Wild boar dishes, cheap yet delicious wine, great shopping, no people and all a one hour train ride from Rome.
How to get there
Trains from Rome's Termini station leave regularly and take between an hour to an hour and twenty two minutes, depending on wether you take the  IC (Inter City) or RV (Regionale Veloce) train. This also affects the cost with the IC costing 20 euros per person and the RV costing 11 euros per person. OUR ADVICE: take the RV, it's cheaper, often quicker and there is no difference in train to be honest. Once at the train station (Orvieto Scalo), you simply take the Funeculare (like a ski lift) to the top, it lasts 3 minutes, costs 1 euro and includes the cost of a bus ride to the town centre.
Where to Stay
If you really wish to stay the night, I recommend the Albergo Filippeschi. It's central, near to two of the best restaurants, has wonderful friendly staff, is well decorated (it was once a noble's palace) and is very reasonable in price.
ALBERGO FILIPESCHI
Via Filippeschi, 19 Orvieto
tel: 0763 343275
http://www.albergofilippeschi.it/eng/home.htm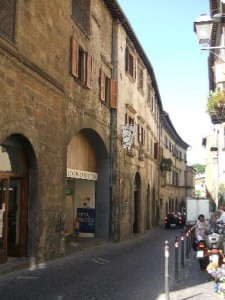 Where to Eat
If you love food you are in for a true treat. I can honestly name these two restaurants as some of the best meals I have had travelling.
FEELING LIKE SOMETHING RELAXED AND EASY?
La Palomba, is your classic family owned laid back restaurant, not fancy in decoration, it is very rustic, do not be fooled! The food is incredible, the owner Guiseppe is a great host and the wine will leave you wanting more. Truffles are a must, as is any dish with Cinghiale (wild boar a local delicacy) Try the Bruschetta with Tartuffo, that Guiseppe will grate onto your plate for you, with the skill of Bernini sculpting marble. Then move on to the Cinghiale in umido (stew), incidentally though it is not the done thing you must have some Tartuffo shavings to add that extra flavour (ask Giuseppe, he will oblige). Accompany this with a bottle of Vipra Rossi (Red Viper from the Bigi winery) a deep red wine from the area, it is the recipe for a perfect meal.
LA PALOMBA
Via Cipriano Menente 16
Orvieto
tel: 0763343395
Where to Shop
Lorem ipsum